Buying a Used Car? Do Your Homework
Buying a used vehicle does not have to be an exhausting experience. There are 8 things we advise customers to check for when searching for their new-to-them vehicle. At Superior Automotive Group, we want to give you tools to make an informed decision.
Below are a list of things to keep top-of-mind while going through the used-car buying process:
Report or Vehicle History Report
This report is free for all used vehicles from Superior Automotive Group. It gives details about the specific vehicle's accidents, damage, service, odometer and more reports. If you would like more information about the vehicle, do not be afraid to ask the seller.
This image to the right is an example CARFAX report on a used Mazda vehicle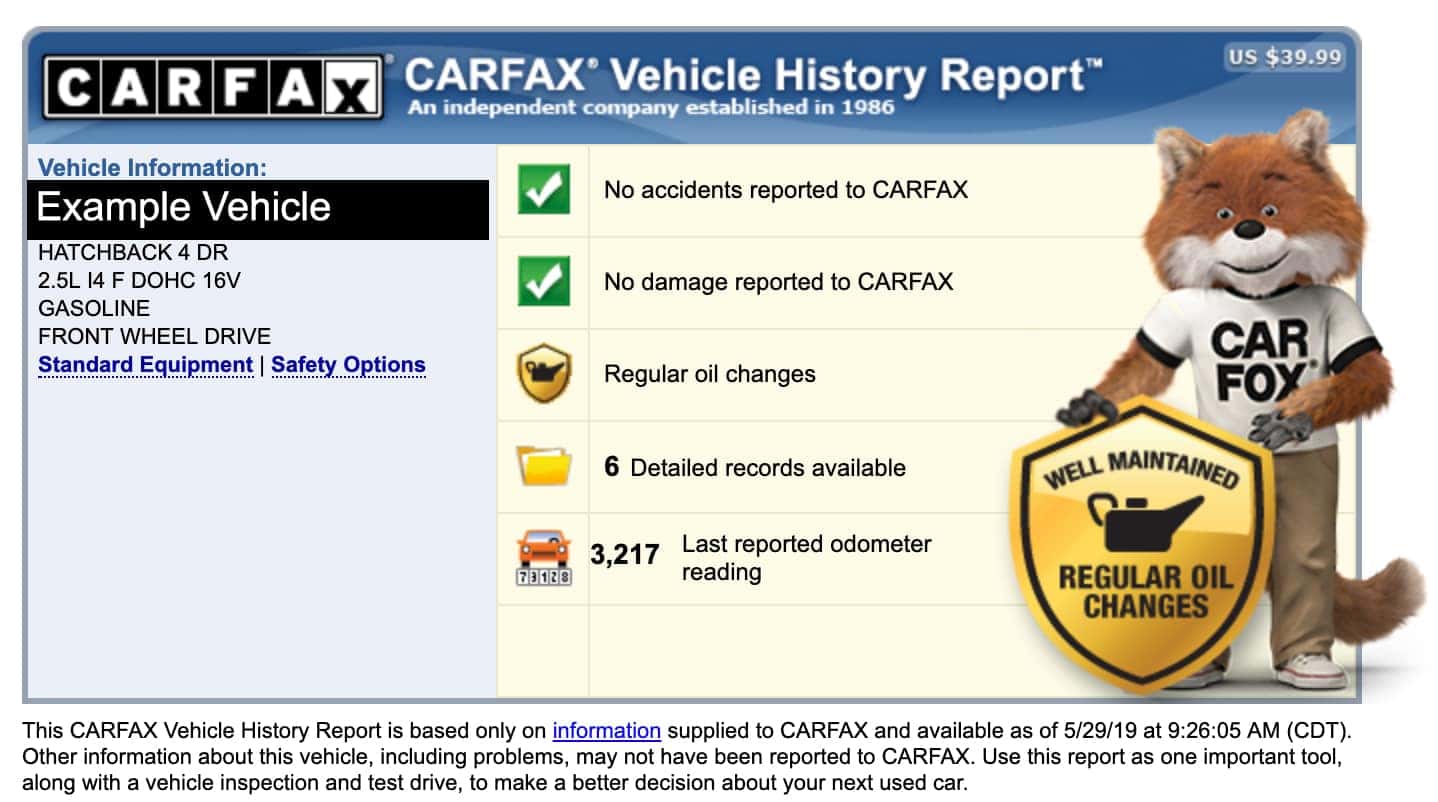 Pushing ALL Buttons & Open EVERYTHING
If there is a button for a feature, push it. If there is a moving part, move it. Trunk, doors, sun/moonroof, glove box, center console, storage compartments, open and close them all. Make sure all of the features are operational by performing those functions – heated/ventilated seats, bluetooth, . Getting a new-to-you vehicle can be exciting with added convenience features, but you want to make sure that all of them work so you can enjoy them after you purchase the vehicle.
Check for Recalls
Recall (noun) – an
acknowledgement by the vehicle
manufacturer or NHTSA (National Highway Traffic Safety Administration) of malfunctioning parts or safety
defects of a vehicle
It is important to know the history and current status of recalls for many reasons. You want to ensure you and the occupants of your new vehicle are safe. If there is a concern about a recall, ask the seller or dealer about past service records or future actions to take. To find more information about any recalls on your vehicle-of-interest, go to the NHTSA site that tracks them.
Interior
Thoroughly check and smell the interior of the vehicle. The state of the interior is an indicator as to how well the previous owner(s) took care of the vehicle during their ownership. Cars are sometimes prone to leaking, so confirm that there are no mildew or mold smells. Missing buttons, torn seats, and dirty crevices are common indicators of an owner not taking proper care of their vehicle. Vehicles that are not taken care of can lead to costly fixes later down the road.
Exterior
Look at the paint from far away and up-close. The paint on all body panels should be the same color exactly, if not, that is a sign that there was an accident and body work was done. An up-close inspection should reveal little to no scratches, dents, or rust. If there are body panels that do not align correctly, there is a high chance that vehicle was in an accident. Ask the seller about the misalignment of the panels and cross-reference it with the CARFAX report.
Dashboard Lights
Zero dashboard warning lights should be showing when you start the vehicle. If there is a warning light on the dashboard, notify the seller of the vehicle and ask for an explanation as to why that light is on. The seller should have taken care of the maintenance required to prevent dashboard lights.
Get a Second Opinion
Second opinions can spot little things that may be missed on first glance or sound. If you feel less sure about your mechanical knowledge, you should seek out someone who does (know a lot about cars) to accompany you during the test drive and inspection. The warning light may not be showing, but an engine can be showing signs of damage in other ways. If a mechanical problem goes unnoticed or is misdiagnosed, a malfunction in the mechanics can be very costly.
TEST DRIVE
ALWAYS test drive the vehicle you are considering purchasing. Test driving is meant for the potential customer get the feel of the vehicle. Don't drive it like you stole it, but we recommend you driving a little more aggressive than you normally would. The way the engine sounds and how it drives are things that are important to take note of during the drive.
In conclusion, don't be afraid to ask questions and touch everything. Superior Automotive Group values your safety and would like for you to be informed when considering purchasing a used vehicle.